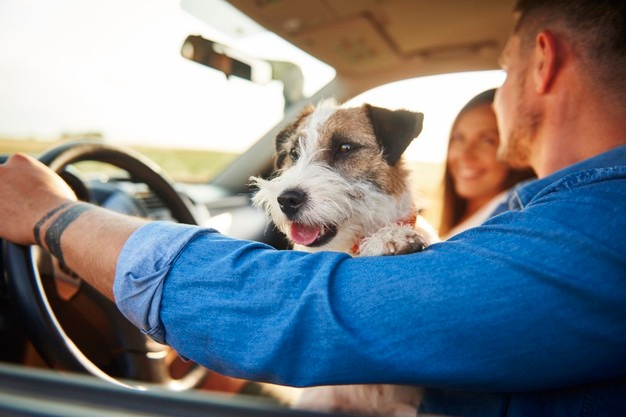 Travel with Pets
Travelling with pets: What to do when travelling with pets? 
Airplane Travel Tips, Car Travel Tips, and More Pets are like kids to many, and the idea of ​​leaving them home on vacation is out of the question for some. However, before taking your pet on vacation, there are a few things to consider and some tips for your pet's trip. 
 Pet Travel Decisions It can be tempting to take your pet on vacation. However, be aware that some animals are not suitable for travel due to illness, age, or physical disability. You must check with your veterinarian about pet travel and pet air travel before travelling to ensure the safety of your pet. 
 Trains, Planes and Automobiles 
 Air Travel with Pets Every airline has different rules and regulations when it comes to flying with pets. To prevent your airline from banning your pet at the last minute, there are several things you can do. First of all, contact your airline in good time and find out about their regulations for air travel with pets. Bringing your pet on board is the best option, but with some airlines, cargo is often the only option if your pet is large. Although Congress passed the Animal Safe Air Travel  Act in April 2000, there are several points to consider to keep your pet safe during cargo flights. First, many airlines have specific airline requirements, so be sure to adhere to them. Second, make sure the carry bag you choose is large enough for your pet to roll over and feel comfortable during the long flight. Third, try to make sure it's a nonstop flight to make sure your pet doesn't get lost. Fourth: When you are on vacation, please put a label on the shipping box with your phone number, address,  destination and contact number correctly. There are many other considerations and tips that you can find on the Humane Society website. If your airline does not allow pets, or if you are careful when shipping your pet in cargo, there are other options to consider. 
 Road Trip with Pets Many pets like to travel by car; Therefore, whether or not your pet needs to stay in a pet carrier is a personal decision. Cats are often uncomfortable when travelling, so it is best to keep them in a pet cage for their safety and yours. If the pet is not kept in a pet cage, you must ensure that it is securely restrained in the vehicle. There are special harnesses that can be purchased to keep your dog safe or "buckled up." It is important to stop frequently when travelling with pets to allow them to move around and use the bathroom. 
Trains, buses and boats Very few boats allow pets, and Amtrak does not allow pets. However, pets are allowed on board many European trains and some small American rail companies. When it comes to buses and other forms of public transportation, the rules and regulations vary between states and cities. 
Pet-friendly Hotels There are hundreds of websites that list pet-friendly hotels, and you can find a pet-friendly hotel in almost every city. For example, if you are going to San Francisco, you can stay at the Hilton San Francisco Financial District, or if you are visiting Austin, you can stay at the La Quinta Inn Austin North. 
Pet Fun Wherever you go, there is a pet-friendly park or beach, and outdoor activities are best for those travelling with pets. Outdoor spaces in restaurants often allow pets. 
When travelling with pets, it is important to keep them safe and not do anything that could endanger them. And if you bring your pet, make sure you can keep her entertained. Have a good trip!